Most western women wear white on their wedding days. Even brides who are taking their second stroll down the aisle often opt for a white bridal gown. Like all traditions, the white wedding is open to interpretation. Historians tell us that the custom began in 1840 when Queen Victoria married Prince Albert.
Before that time, English monarchs rarely wore white. But when the most powerful woman on earth wore a white gown, for better or worse, she started a fashion trend. The white gown soon became a symbol of innocence, chastity, and devotion. Inspired by their storybook romance, the Victorian Era was responsible for many of our contemporary symbols of love. One of them is the white wedding.
Embraced almost immediately by the elites of society, it took more than a century for middle class brides on both sides of the Atlantic to adopt the trend. As any sociologist could tell you with a shrug of his shoulders, there is really no easy explanation for how or why a trend becomes a tradition. The English and American brides who wore white en masse after WWII had very little in common with Queen Victoria. But maybe that was the point, that every woman deserves to be treated like a queen on her wedding day.
It is also important to note that the first white wedding gowns were worn as symbols of wealth. After all, only a wealthy couple could afford a dress that was too ornate to be washed and therefore could only be worn once. Even today, the average white wedding dress costs nearly one thousand dollars and is only worn for about eight hours. Designer dresses often cost three or four times as much.
Because white is the most popular color, brides can choose from a number of interesting styles. Though white is a traditional color, it hasn't stopped designers from experimenting with contemporary styles. Let us take a moment to review a few of the most popular white wedding dresses.
Silhouettes are popular with brides who have put in their time at the gym. They hug every curve and show off a fabulous figure. Because they are lighter and more comfortable, silhouettes can be worn through the ceremony, the reception, and may even be worn again. They are frequently found at more casual affairs, often during the summer months where the comfort of the bride is of is of paramount importance.
For more traditionally-minded women, a ball gown is a classic pick, though not without its flaws. On the plus side, they help brides with less than perfect figures achieve an attractive, classic shape due to the rigidity of their design. Yes, these gowns are quite heavy and restrictive, which is why many brides change out of them into more comfortable dresses for the reception. Though they will only be worn by the original bride once, their sturdy construction and design means that they can be passed on to a daughter or a daughter-in-law.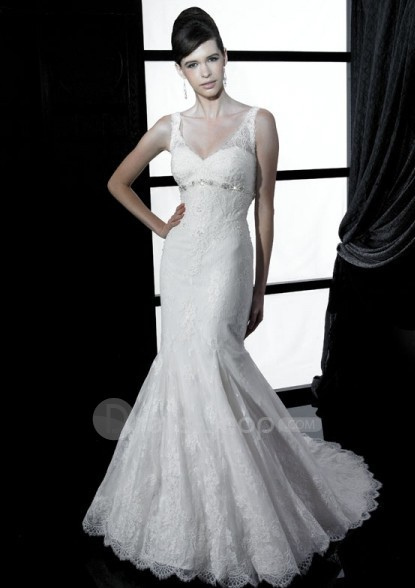 These gowns first became popular in the 1950s, shortly after the idea of the white wedding became attractive to western women. What is the appeal? Once again, these are not particularly comfortable dresses, but they are designed that way because they are made for only one day. The mermaid style gown gives a bride with a slightly larger lower half the ability to conceal her thighs and hips in a tight- fighting dress. As you might expect, it often takes her a bit longer to get down the aisle because she has to take much smaller steps, though the design is often quite flattering.